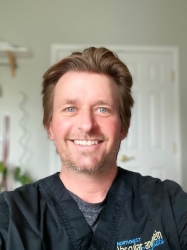 Latest posts by Ken Langworthy RVT
(see all)
For years, vein doctors and specialists have relied on a clinical tool called the CEAP score to classify the severity of a patient's varicose vein disease. Patients experiencing painful varicose vein symptoms would find themselves browsing unreliable online forums in an effort to understand their vein symptoms and vein treatment options while awaiting their first appointment and an official CEAP score.
Vein Score: Understanding Your Varicose Vein Symptoms
Theultimateveinguide.com developed the Vein Score. The Vein Score quiz now allows you to understand the severity of your varicose vein symptoms before you even pick up a phone to request an appointment with your vein doctor. Simply select the leg symptoms you're experiencing and enter your zip code to receive all the information you'll need to be informed and empowered on your journey to vein health.
Vein Score Can Help Find a Vein Doctor
Your Vein Score will help you understand the severity of your vein disease, relevant vein treatment options, and the coverage you can expect from your insurance company. You'll also receive a list of the physicians and vein specialists in your area who are best suited to treat your particular leg symptoms.
Whether you're seeking to understand your leg symptoms for the first time or simply want further guidance following an initial appointment with your vein doctor, the Vein Score Quiz is the perfect place to start.  Find Your Vein Score Now!