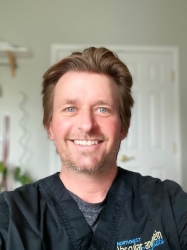 Latest posts by Ken Langworthy RVT
(see all)
With two locations in the Chicagoland area—one in Arlington Heights and one in Libertyville—they are conveniently located for many vein patients throughout Chicago. Both Dr. Woloson and Dr. Clark are female board-certified vascular surgeons with an impressive 20 years of experience in treating varicose and spider veins.
The Ultimate Vein Guide strives to find the best vein specialists nationwide, and we are confident that our users will have an excellent experience at Northwest. Just take a look at this Google review from a recent patient:
"Dr. Woloson and her expert team are amazing. My experience has been great—I had significant issues in both legs, and they quickly identified the cause and came up with a plan. The swelling and pain I've lived with are now gone. I have sent over my mom, sister-in-law, and friends, and all have had the same great experience. Best decision I've ever made!"
We are excited about our app users to have similar experiences with Dr. Woloson and Dr. Clark in the near future. Northwest Vascular and Vein Specialists can now be found in the Vein Specialist Finder, an easy-to-use resource for new vein patients searching for the best of local treatment options. They will also have a profile page on The Ultimate Vein Guide to provide further information to potential patients in their area.
Vein patients can also find Northwest Vascular and Vein Specialists by completing The Vein Score Quiz on our website. The Vein Score Quiz helps our users understand the severity of their vein disease and relevant treatment options before providing a list of local vein specialists who are best suited to treat their particular symptoms.
To learn more about Northwest Vascular and Vein Specialists, visit their website or their profile with The Ultimate Vein Guide.
If you are a vein specialist interested in joining The Ultimate Vein Guide, send an email to kenlangworthy@theultimateveinguide.com to learn more.